Raise a Floppa - The Loop
Play Sound
Elden Ring is a fantasy action role playing game developed by FromSoftware and published by Bandai Namco Entertainment. The game is a collaborative effort by Dark Souls, Bloodborne, and Sekiro: Shadows Die Twice creator Hidetaka Miyazaki and author George R.R. Martin, creator of A Song of Ice and Fire and its television adaptation, Game of Thrones.
Plot
The player takes control of a Tarnished, whose goal is to restore the shattered Elden Ring.
Gameplay
The player's character is made from scratch. Players can level up at checkpoints using obtained currency.
Summoning spirits is a core component to the gameplay. The spirits can be acquired, leveled up, and upgraded in different ways. The spirits can take on a variety of forms.[1]
The game is open-world, but features six critical "legacy dungeons" that feature bosses, fog gates, and various secrets. These areas are gated-off from the open world.[2] The dungeons can be completed in any order for the most part, but they cannot head directly to the final dungeon.[3]
In the open world itself, the player can ride their spirit steed, and teleport to obtained checkpoints, along with discovering mini-dungeons and field bosses.
Co-op play is available.[2]
Development
As a fan of George R.R. Martin's work, Hidetaka Miyazaki contacted him with an offer to work together on a project, giving him the freedom to write the backstory of the game's universe. Elden Ring began development in 2017 after the release of the final DLC for Dark Souls III. Elden Ring was announced at E3 2019. The soundtrack is being composed by Yuka Kitamura, who has composed songs for other FromSoftware games.
System requirements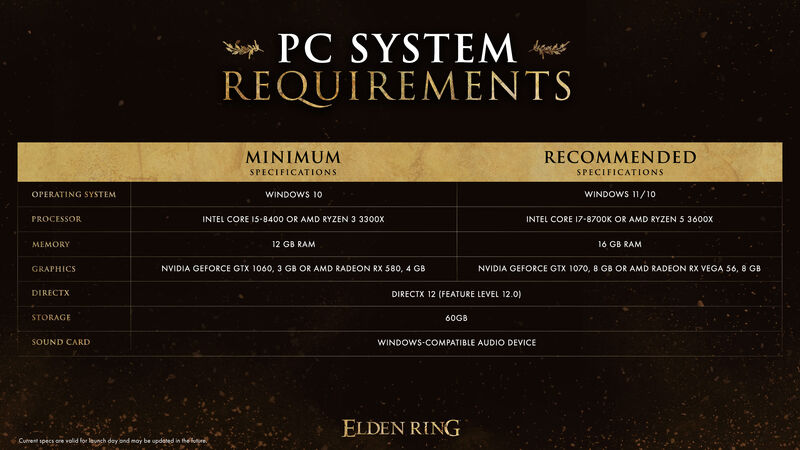 Gallery
Videos
References